Whispers from the Deep
In the dead of night, Isabelle Morganthau flees the only home she's ever known, taking her boyfriend Arren, an old rickety biplane, and a handful of gold coins. They leave behind their families, the sea, and their gods lurking in the depths, in hopes of finding somewhere safe to figure out who they really are.
But life on the run is expensive. Forced to take odd jobs to keep flying, Isabelle is drawn deeper and deeper in the world of mercenary pilots, where danger lurks in every cloud and life expectancy is measured in weeks. The Gods may be on her side, but will it be enough?
Whispers from the Deep is a novel set in the world of the Flying Circus roleplaying game, which was originally written as a form of interactive fiction and has been edited for publication as a single narrative.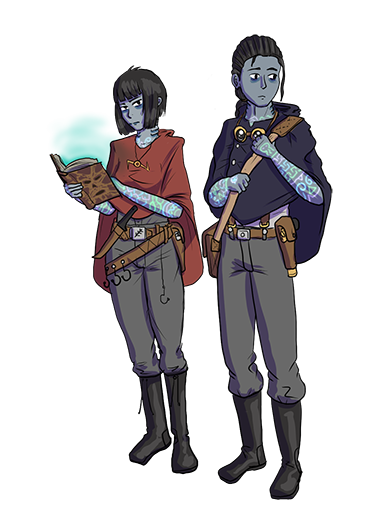 Whispers is written from the second person perspective and casts the reader as Isabelle Morganthau, a Fisher, one of the game's core character archetypes. Isabelle's a cultist of dark and lovecraftian gods who really aren't that bad, once you get to know them. Her adventures take her hundreds of kilometres from her home as she meets new people, builds a squadron, and battles the horrors of a fantasy post-apocalypse.
Information
This novel explores themes of abuse, trauma, and recovery, and features a fair degree of violence and bloodshed. Be warned.
It also has several sexually explicit themes with a distinctly queer and kinky bent. That's not a warning, though, that's a promise.
This is a preliminary release of the novel, and may not be the final form put to print.
Word Count: 150k
Page Count: 518 in 6x9 format.
Format: PDF
Purchase
In order to download this book you must purchase it at or above the minimum price of $5 USD. You will get access to the following files:
Whispers_from_the_Deep - 3_1.epub
2 MB
Whispers_from_the_Deep - 3_1.pdf
3 MB